On a Quest to Achieve the American Dream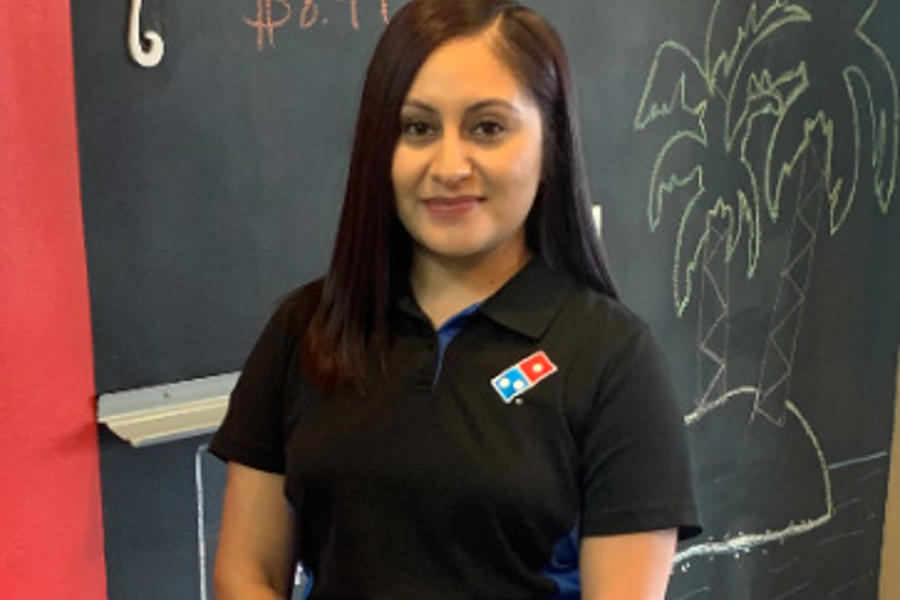 Maribel Pineda was just 15 years old when she immigrated from Tijuana, Mexico to Anaheim, California to live with her mother's cousin, who she had only met once before. Maribel only spoke Spanish, so she was unsure how she would find a job in the United States.
When Maribel turned 16 years old, she applied for a handful of jobs, but after not receiving any callbacks, she turned to her family for help. She had two older cousins who worked for a local Domino's in Garden Grove, California, and it just so happened that the store was looking to hire a customer service representative. Domino's offered her the position, she accepted, and it turned out to be the best decision Maribel ever made.
"I was afraid to work anywhere because I didn't know any English," Maribel said. "My cousin scheduled me at Domino's only when she would be there so she could help me translate. I was determined to learn English."
Maribel continued to work as a customer service representative for about a year and during that time, her English improved greatly.
"It took me about five months and I was speaking English fluently," she said. "Domino's was the perfect environment for me to grow in – personally and professionally."
After a year, Maribel was promoted to assistant manager. She worked in that position for about five years. Then, she was promoted to general manager and held that position for six years before she bought her very own Domino's franchise in Los Angeles in January of 2021.
"Who would have thought I would have learned to speak English working in a Domino's store?" Maribel said. "I knew that hard work, sacrifices and wanting to succeed would lead me in the right direction. When you have a goal in mind and you work towards it, you will achieve it. It doesn't matter what language you speak or where you are from. Your hard work and determination will get you there."
In her spare time, Maribel donates pizzas to the United Across Borders Foundation, which provides groceries and food to those in need. Maribel feels close to this organization because they occasionally go across the border to offer assistance in Tijuana, where her family still resides.
"Now that I own my own Domino's franchise, I plan to apply my experience and knowledge about the brand and turn this location into a more successful franchise – all while helping friends and family along the way," said Maribel.
Her next goal is to purchase another Domino's store in her area.
"I want to own multiple Domino's locations and will not stop until I accomplish what I came to do," she said.