Chris Krueger: Climbing the Ladder from Driver to U.S. Supervisor of the Year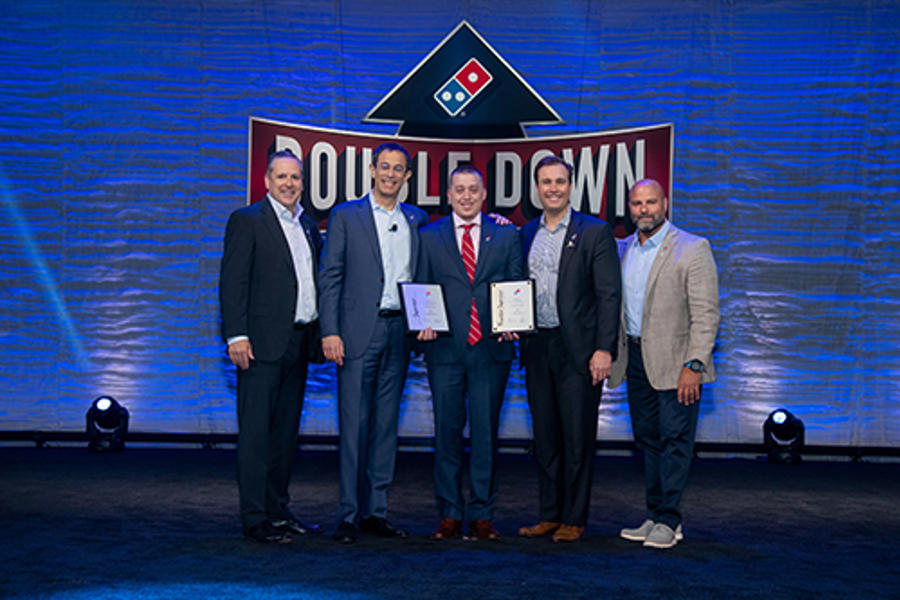 Chris Krueger didn't know what kind of job he wanted in 2008 – he just knew he needed one as soon as possible. He didn't have a place to stay and was living out of his car.
"A friend of mine just happened to be a manager at the Huber Heights, Ohio, Domino's and suggested I fill out an application," Chris said. "I followed his advice, and he was able to get me an interview. Shortly after that, I was hired on as a delivery driver."
Chris didn't know it at the time, but that was the start of his Domino's career – one that would lead to him being named Domino's 2022 U.S. Supervisor of the Year. Chris put on his delivery driver uniform and never looked back.
"I quickly fell in love with the environment while working at Domino's," he said. "Having a restaurant full of team members all working towards one goal is exciting and energetic."
Chris worked his way up the ladder and has been managing six Domino's stores throughout Dayton since 2018. He has been doing such a phenomenal job that he was recently awarded the prestigious title of U.S. Supervisor of the Year at a Domino's awards ceremony in Las Vegas in May 2022.
Domino's U.S. Supervisor of the Year award recognizes supervisors who've led and developed their store managers to generate outstanding results in sales increases, customer satisfaction indicators and profitability. Recipients of this award must have held a supervisor position for a minimum of 26 weeks or have been a manager/supervisor for a total of 18 months.
"I received a text from my franchise owner, Chris Schlater, telling me about some of the other award winners," Chris said. "Then he told me that I had won Supervisor of the Year. I was in awe. I sat in my car for five minutes in silence and disbelief. I was so honored and humbled by the conversation, I had no words."
Domino's CEO Russell Weiner presented the award to Chris in front of thousands of Domino's leaders, franchisees and team members from around the world.
"What a feeling of accomplishment to be applauded by 8,000 people and Domino's leadership team," said Chris. "I was super nervous to accept my award, but once my name was called, it felt awesome."
When Chris was asked if there were any obstacles he overcame in order to win an award like this, he smiled.
"Our team has had to handle new hurdles every day for the past couple years with COVID," he said. "We found the best way to handle any hurdle is to stop, think, and not make any rash or quick decisions. Weigh your options and make a rational decision based off your knowledge of past situations."
Chris said he is extremely happy to manage Domino's stores throughout Dayton. When asked if he would change anything about his Domino's career, he replied, "I would have pushed myself harder earlier on – I know what I am capable of."
Chris' goal now is to win Domino's U.S. Supervisor of the Year award back-to-back.
"I want to continue to be the best," he said.