A Shift to Remember: Domino's® Delivery Driver Saves Elderly Gentleman from Duplex Fire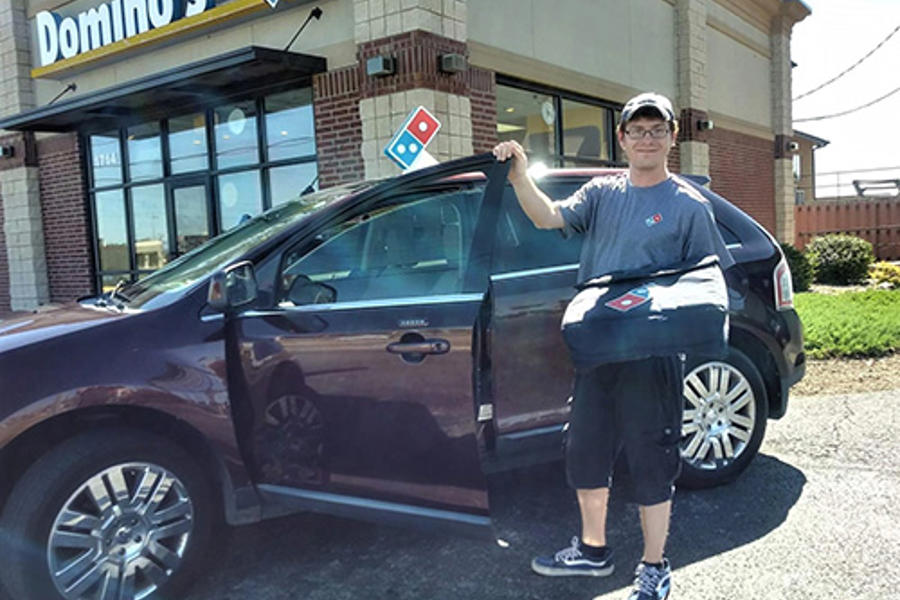 Friday, July 1, 2022 was a normal night on the job for Domino's delivery driver Seth Godwin, until it wasn't. Seth had just made a late-night delivery and was on his way back to the store in Joplin, Missouri. He decided to take an alternate route – one that he didn't usually take, but he thought it might be faster. That single decision impacted the rest of his night, and others' nights as well.
Seth saw a large column of smoke billowing from a duplex. He knew there were fireworks around the area, since Independence Day was approaching, however, it wasn't a normal amount of smoke. Seth parked his car, ran over to the duplex to see what was going on, and spotted large flames coming from the building.
"All I knew there was a fire, nobody knows if anyone is inside, but you can hear this dog," Seth said. "I just knew that I'm on the outside, the dog is on the inside – I could hear it barking – and if I didn't do something, I couldn't live with it, so started kicking down the door."
Seth made his way inside the unit, which had no electricity and was engulfed with smoke.
"It's not easy running through some stranger's house in the dark," Seth said. "I ran into walls, knocked pictures off the wall, but I just ran straight towards the sound of the dog."
Seth got down on the floor so he could see better and began to crawl. After making his way into a bedroom, he found the dog under a bed, but it was too frightened to come out. By this time, Seth ran out of air, so he exited the duplex, ran to his car, retrieved his inhaler and grabbed a flashlight. He went back into the duplex a second time, but by then he couldn't see a thing.
More people started gathering outside, but nobody seemed to know if anyone was in the other side of the duplex, so Seth began pounding on the door and knocking on the windows. There was no response, but Seth didn't want to ignore the possibility of somebody being trapped inside. He kicked down the door and found an elderly gentleman sleeping in his bed.
"Smoke was coming in pretty quick into his unit," Seth said. "He didn't understand his duplex was burning down. Waking up with some stranger in your room, standing over you with a flashlight – it had to be frightening. He was sleeping and had no idea there was a fire, so I helped get him out of bed, get dressed, got his wheelchair, grabbed his pills, inhaler, phone, and got him out."
By then, firefighters showed up and were able to rescue the dog from the other duplex. In retrospect, Seth said he wasn't nervous at all.
"I just went into action mode," he said. "I decided to go in there in case anyone was in there. I just wanted to make sure everyone was okay. The timer was ticking. The fire was spreading. I had to do something."
When Seth returned to the Domino's store, he was covered in soot, his legs were shaking and he realized what had just happened.
"We are so proud of Seth," said Emily Elwell, the franchise owner of Domino's in Joplin. "Proud doesn't even begin to describe it. Sometimes this business puts you in situations you don't expect to be in, and his quick thinking and loving heart made a huge difference!"
When asked, Seth said that day was one he will remember forever.